Projected Savings: $1800 Over the Expected Lifetime
Investing in an Energy Star-labeled water heater can lead to substantial savings. For a family of four, it can amount to $95 per year in energy costs, resulting in total savings of $1,800 over the expected lifetime of the heater. Moreover, certain energy companies in California offer rebates for purchasing an Energy Star-labeled tankless water heater. However, it's important to note that installing a new on-demand heater requires careful planning and should be entrusted to licensed, certified plumbing specialists.
Constant Stream of Hot Water
Let's explore the advantages and disadvantages of owning a tankless water heater. One significant advantage is the swift hot water delivery to your showerhead or faucet. Once the cold water in the pipes is flushed out, your water instantly becomes hot. Within seconds, you'll enjoy a constant stream of hot water. On the downside, the temperature can be inconsistent when multiple people use hot water simultaneously. For example, if two showers run while someone does laundry, the heater might need help to meet the demand. Consulting with a plumbing expert will help determine the appropriate size of the on-demand water heater for your family's needs.
Extended Lifespan of Tankless Models
Another advantage of on-demand heaters is their extended lifespan. While most storage tank models typically last around ten years, tankless models can endure for twenty or more. However, it's worth noting that the initial installation cost of on-demand heaters is higher. Nevertheless, the long-term savings accrued during its lifespan compensate for a significant portion of the upfront costs. Additional installation costs may arise if a plumbing contractor needs to reroute a gas line.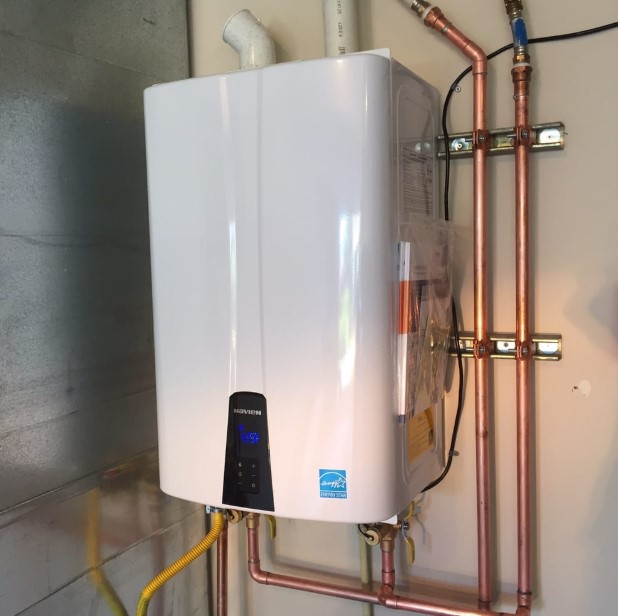 Luxury and Repiping Considerations
Although tankless heaters offer numerous benefits to homeowners, they are still considered a luxury. Furthermore, older homes often require repiping, which incurs additional expenses. When contemplating the installation of an on-demand tankless heater, it's crucial to assess the costs thoroughly and work closely with a plumbing professional.
Energy-Efficiency and Cost Savings
Consumer Reports indicate that homeowners can enjoy up to 22% energy-cost reductions compared to more efficient storage tank models. Additionally, an Energy Star-labeled heater may qualify for a tax credit. Generally, tankless water heaters are more energy-efficient than storage tank water heaters since they heat water only when necessary instead of constantly maintaining a large hot water tank. As a result, they consume less energy overall, leading to lower monthly energy bills.
Up to 30% Energy Cost Savings
According to the U.S. Department of Energy, homeowners can save up to 30% on energy bills by switching to a tankless water heater. However, these heaters tend to have higher upfront purchase and installation costs than traditional storage tank water heaters. Nonetheless, the long-term energy savings from using a tankless water heater outweigh the initial investment. The amount of savings depends on various factors, including household size, hot water usage patterns, and the efficiency of the current water heater.
Space-Saving Benefits
Tankless water heaters offer significant space-saving benefits compared to traditional tank-style water heaters. While the specific size of a tankless water heater may vary depending on the model and manufacturer, they are generally much smaller than their traditional counterparts. This is particularly advantageous for smaller homes or apartments where space is limited. Traditional water heaters typically have a tank that can hold 40 to 80 gallons of water, necessitating a dedicated utility room or closet. In contrast, tankless water heaters are compact and can be wall-mounted or installed in a small space. Some models are even as small as a briefcase, making them ideal for space-constrained homes.
Precise Temperature Control
On-demand tankless water heaters excel in providing precise temperature control. Unlike traditional storage tank heaters that may lead to temperature fluctuations, tankless units maintain consistent and accurate hot water temperatures. Tankless water heaters are equipped with sensors and modulating burners or heating elements, ensuring a steady hot water flow at the desired temperature. This precise temperature control allows customized hot water experiences tailored to individual preferences. Whether it's a relaxing hot shower or specific temperature requirements for household tasks, tankless heaters deliver reliable and consistent results. This level of control enhances comfort, convenience, and safety, making tankless water heaters a desirable choice for homeowners seeking precise and efficient hot water solutions.
Increased Home Value
In general, installing an on-demand tankless water heater can enhance the value of your home. Real estate agencies often recommend these energy-efficient features to potential buyers as they align with eco-friendly, cost-effective, and energy-efficient home preferences. When considering the installation of a tankless water heater, it is crucial to consider your personal preferences, budget, and specific requirements. Consulting a professional plumber will help you determine the best option for your home.
Licensed and Certified Professionals
The installation of most tankless units requires the expertise of a licensed plumbing contractor to maintain the warranty. At Murrieta Plumbing, we are licensed and certified in installing most major tankless water heater models. As an A+ rated company with the Better Business Bureau, we pride ourselves on delivering quality service. Feel free to check our reviews on Facebook, Google My Business, and Yelp!
Conclusion That On-Demand Tankless Water Heater is a No Brainer
In summary, opting for an on-demand tankless water heater offers numerous advantages. These energy-efficient heaters provide hot water on demand, leading to cost savings in energy bills over their projected lifespan. They deliver a constant stream of hot water with precise temperature. They also have a longer lifespan compared to traditional storage tank water heaters. Although the initial installation cost may be higher, the space-saving benefits, increased home value, and long-term energy savings make them a worthwhile investment. Consulting with licensed plumbing professionals ensures proper installation and maximizes the benefits of an on-demand tankless water heater.