Earthquake Straps
Do you install earthquake straps on all water heaters? California is renowned for earthquakes. Keeping your family safe in the event of a natural disaster should be a priority. Installation must include straps on the top and bottom third of the water heater storage tank.
As any responsible plumbing expert, you can't afford to cut corners on earthquake straps. Anything less would result in a poor installation. You also cannot afford to lower the safety requirements and plumbing codes for the project. A bad water heater installation might result in severe damage in a significant earthquake and its aftershocks.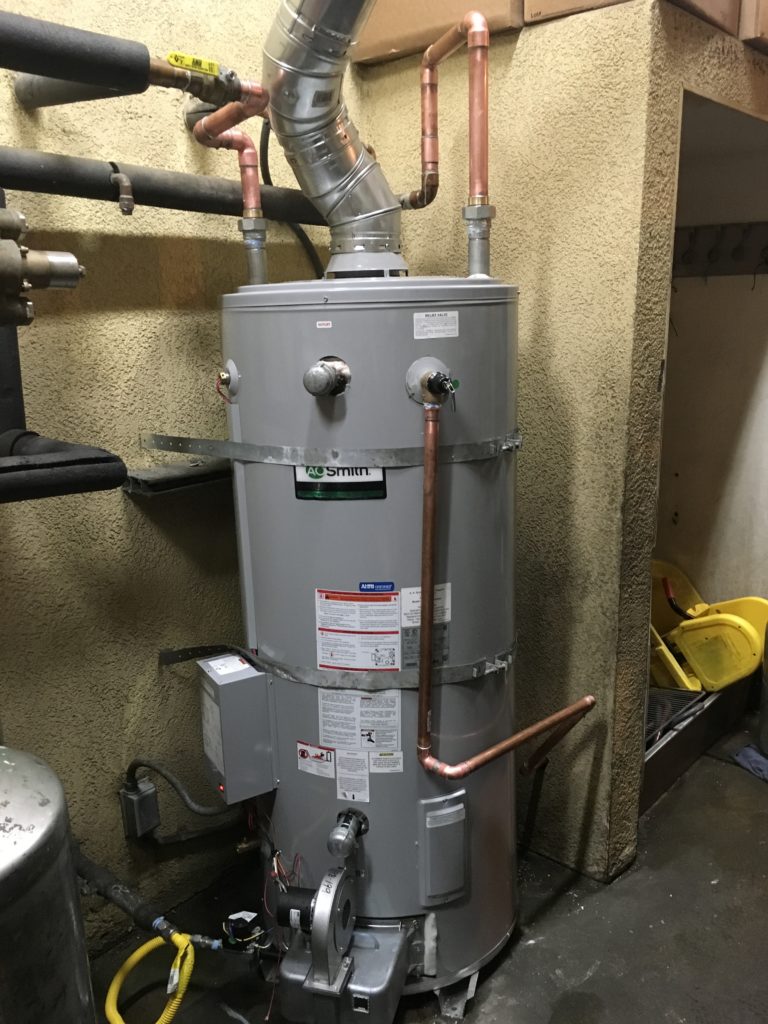 High Water Pressure
Ask your plumbing company to check your water pressure. While the high water pressure may feel good, it is unsuitable for pipes, plumbing fixtures, and appliances, including your water heater. The recommended pounds per inch (PSI) is between 40 to 60. If your water pressure exceeds 80 PSI, ask your plumbing company to install a pressure regulator or adjust the working regulator. This will alleviate the stress put on your plumbing system. In addition, appliances like washing machines, dishwashers, and water heaters may break down sooner than expected due to high water pressure. Just the pressure from high water pressure can cause pipes, pipe joints, fittings, and valves to leak or rupture. 
Drain and Drip Pan
Does your plumber install a water drip pan and drain under your heater? It is required to have a drip pan and drain installed under your new hot water heater. If your water heater was to leak, it could cause significant damage to the surrounding area. Unfortunately, most homeowners wait until their water heater starts leaking before thinking about adding a drain pan. It's frequently too late at that time. When done correctly, these useful improvements can offer an additional piece of mind when it comes to preventing significant water damage. Water heater drain pans are reasonably priced, simple to install and provide insurance for your property against future catastrophes.
Water Heater Shut Off Valve
A dedicated water shut-off valve is required. This allows the homeowner to shut off water to the tank when they deem it necessary. It also gives the homeowner the convenience of turning the water off at the storage tank versus the house shut-off valve. The majority of homeowners typically downplay the significance of the shut-off valve. And, of course, it must get installed properly for safety reasons. Nevertheless, installing a shut-off valve could help you avoid costly plumbing repairs in the future. Make sure your plumber installs your water heater with a shut-off valve.
Insulation
Ask your plumbing company if they insulate the first five feet of hot and cold water pipes. California plumbing code requires that the pipes are insulated to help improve energy efficiency. Lowering your water temperature setting is made possible by insulating your hot water pipes. It can also increase the water temperature by 2°F to 4°F over what uninsulated pipes can produce because it lowers heat loss. Additionally, hot water will be available faster when turning your faucet or shower, helping you save water.
Properly Vented
California Code requires that you adequately vent the water heater from carbon monoxide emissions. Carbon monoxide can be deadly. Additionally, any water heater that uses natural gas or propane needs venting, including tankless heaters. California Code also requires the placement of a gas water heater in a specified area. 
A venting system is necessary for all water heaters that use natural gas or liquid propane (LP) gas. Combustion is the term for the process of burning gas; it produces heat, moisture, and exhaust gases, including very toxic carbon monoxide. The ventilation system eliminates these pollutants from the house, making it an essential safety element.
The Value And Service You Need
Do you need a plumbing company that will install your water heater to perfection and up to California code? Murrieta Plumbing has you covered. Serving Temecula, Murrieta, Canyon Lake, Menifee, Sun City, and Lake Elsinore. Call today and get the value and service you need.