When buying a water heater, making an informed decision is important to ensure you get a quality product and installation at a good value. While everyone's priorities may differ, whether it's a reliable warranty or the latest tankless on-demand technology, we all seek a water heater that meets our needs. However, finding accurate information can be challenging, as many online sources may not provide genuine reviews. In this guide, we will explore the key factors to consider when purchasing a water heater and offer valuable insights to help you make an informed choice.
Understand Your Water Heater Needs
Don't rush. While going without hot water is inconvenient, avoid panicking and rushing into a purchase without proper research. Again, don't make an impulsive decision – do the research. Water heater design and technology advancements have led to various options, so evaluating your needs and options will prevent buyer's remorse.
Stick To Your Budget
Set a budget and be flexible. Having a budget in mind is important, but being slightly flexible is also necessary. Remember that a water heater typically lasts 10 to 12 years, so investing in the one that aligns with your preferences and requirements is worth considering. Make a list and prioritize quality and features that align with your needs and preferences.
Considerations for A Tankless or Storage Water Heater
Should I purchase a tankless or storage tank heater? Choosing between a tankless water heater and a storage tank heater depends on your specific needs, budget, and preferences. Consider factors such as hot water usage, household size, energy efficiency, and installation requirements to determine which option best fits your home. Consulting with a plumbing professional can provide valuable insights tailored to your situation.
Looking to have that toilet installed to perfection? Look no further!
Some Thoughts on Tankless Water Heaters
A tankless water heater offers several advantages, including energy efficiency, as it provides hot water on demand, potentially reducing energy consumption and utility bills. It is also compact, saving valuable space in your home. With a tankless system, you can access an unlimited hot water supply, making it suitable for larger households or homes with high hot water usage. Additionally, tankless water heaters typically have a longer lifespan than storage tank heaters, lasting up to 20 years or more with proper maintenance.
Cons of Tankless Heaters
However, there are a few drawbacks to consider. Tankless water heaters generally have a higher upfront cost due to the advanced technology and installation requirements. They may have limitations in terms of flow rate, which could restrict simultaneous hot water usage in larger households. Installing a tankless water heater can be more complex and may require professional expertise, as well as potential modifications to your home's gas or electrical system. Lastly, regular maintenance, such as descaling, may be necessary to ensure optimal performance.
Thoughts on Storage Tank Water Heaters
A storage tank water heater offers several advantages, such as a lower upfront cost than tankless options, making it a more affordable choice. The installation process is typically straightforward and does not require extensive modifications to your home. Storage tank heaters can provide hot water at a consistent flow rate, making them suitable for simultaneous use in multiple taps or showers. Moreover, homeowners widely use and trust traditional storage tank heaters, offering a familiar technology.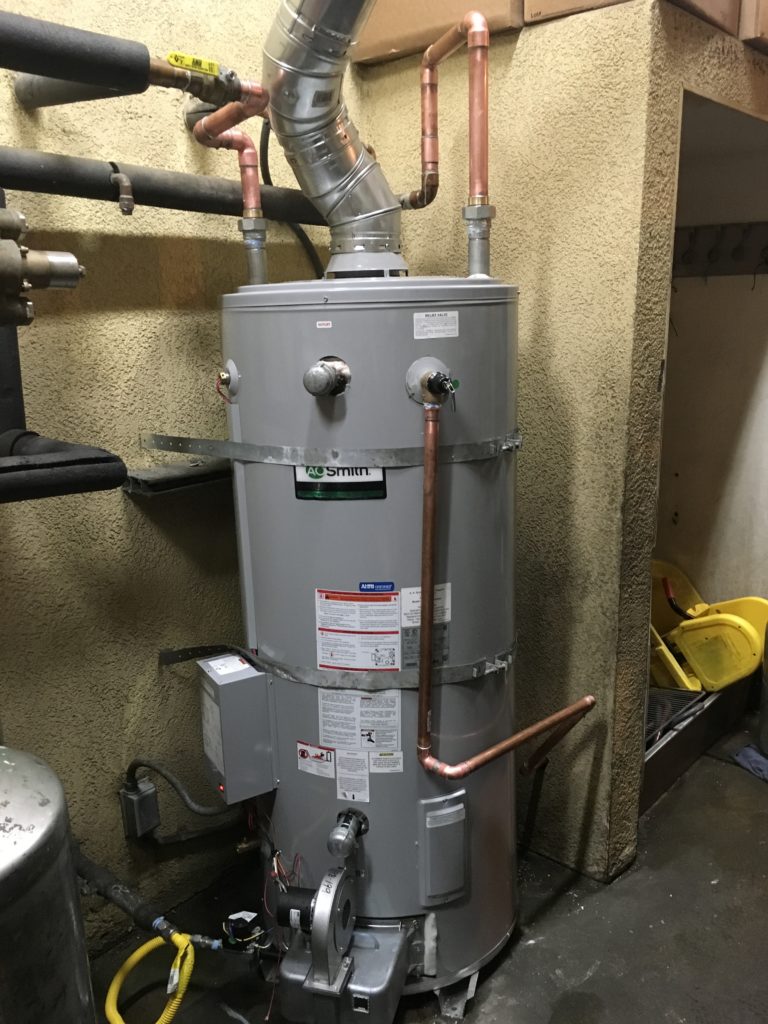 Cons Of Storage Tank Water Heater
However, there are a few drawbacks to consider. Storage tank water heaters tend to have higher energy consumption as they constantly maintain a hot water supply, resulting in energy wastage during periods of inactivity. Waiting for the storage tank to refill and reheat the water during high hot water demand can become inconvenient. Additionally, storage tank heaters are larger and require dedicated space in your home, such as a utility room or basement. On average, storage tank heaters have a shorter lifespan than tankless options, typically lasting around 10 to 15 years.
Deciding on the right garbage disposal.
Technological Advancement In Water Heaters
Water heaters have witnessed technological advancements, including maintenance-free features. Consult a plumbing specialist to understand the options and request brochures on recommended models. Compare different heaters based on their features, ensuring you choose one that fits your family's demands and offers the desired functionalities.
Check Water Heater Reviews and Read What Customers Say
Invest time in research. Consider the water heater purchase as a 24 to 72-hour process. Check reviews from reliable sources, seek advice from friends and family, consult plumbing professionals, and compare different models. Taking the extra time for research will provide peace of mind for years to come.
Great Research Resource
While Consumer Reports provide valuable data, they have paid advertisers. Some customers may require additional performance data for the water heaters reviewed. Additionally, the responsiveness of water heater companies to complaints can vary. Since water heaters have a long lifespan, people usually only write reviews if something goes wrong. Remember to do thorough research on the product you are reviewing.
Many Reputable Water Heater Brands
Purchasing a water heater from a trusted plumbing company comes highly recommended. Many local plumbing companies sell and service reputable brands like Bradford White, A.O. Smith, Rheem, Rinnai, Kenmore, Whirlpool, and EcoSmart. These brands have a proven track record and are known for providing quality water heaters. Opting for a reliable brand ensures prompt service and support if any issues arise.
What's the Bottom Line on Water Heaters?
When purchasing a water heater, conduct thorough research, take the time to understand your needs and options, and consider factors such as budget, water heater type, technology, and brand reputation. Avoid rushing your purchase and consult with plumbing professionals such as Murrieta Plumbing for expert advice. They can provide valuable guidance and ensure a smooth installation process. By following these guidelines, you can make an informed choice and enjoy a reliable and efficient water heater that meets your needs for years.