Hot Water On Demand
Picture this: a world where hot water flows from the faucet instantly, like a loyal friend ready to embrace you in warmth. This is the promise of the tankless water heaters, an innovation that merges energy efficiency, space optimization, and an unending supply of hot water. It's a haven for those who champion sustainability while craving a consistent stream of soothing warmth.
Revolutionizing Water Heating: The Power of Tankless Water Heaters
Tankless water heaters have surged in popularity, transforming the landscape of water heating with their energy efficiency and instant hot water capabilities. With technological progress, these heaters have witnessed the integration of new features and advancements, amplifying their performance and convenience. Here, we delve into some of the latest technologies that are reshaping the water heating industry: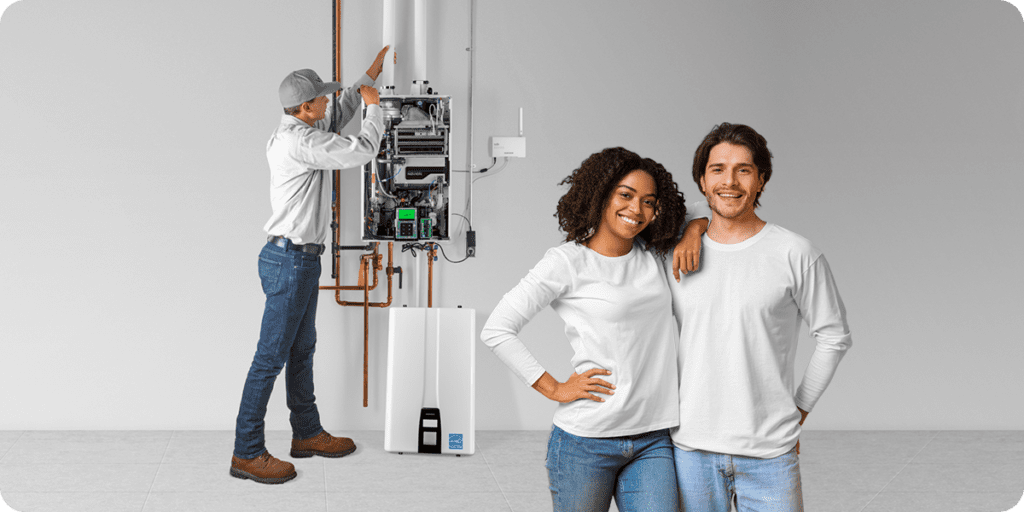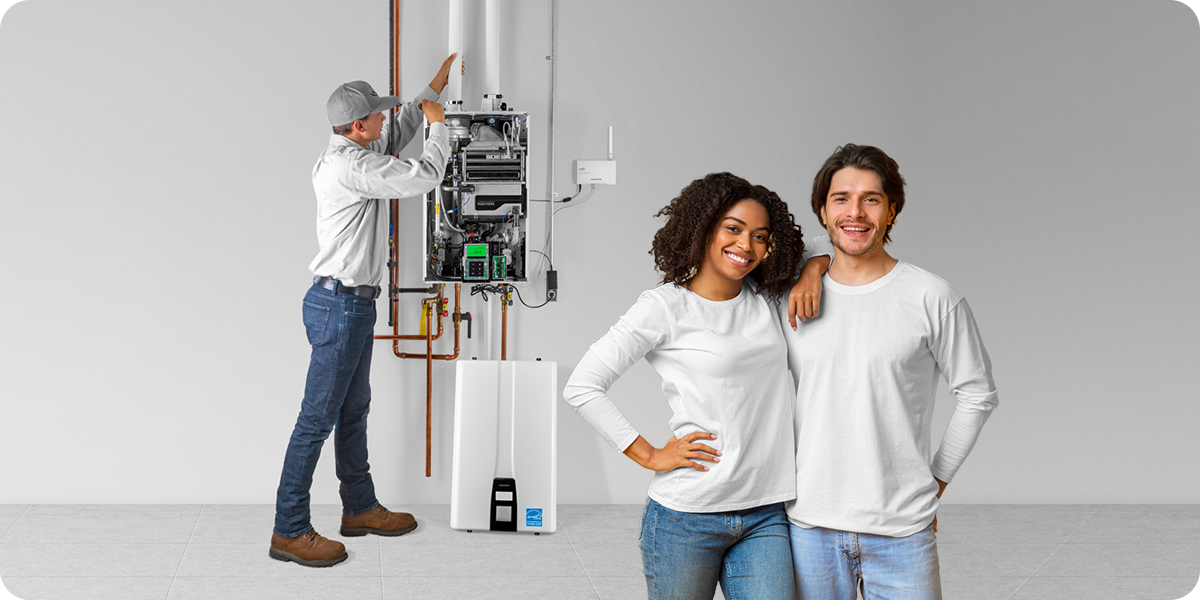 Condensing Technology: Maximizing Energy Efficiency
Innovative condensing tankless water heaters stand at the forefront of energy efficiency. They ingeniously harness exhaust gases to preheat incoming cold water. This game-changing technology captures heat that would otherwise dissipate in conventional models. The outcome? Profound energy savings and reduced emissions, pushing the boundaries of sustainability.
Smart Controls: A Digital Revolution
Today's tankless water heaters arrive with cutting-edge smart controls and digital interfaces. These advanced systems empower users to fine-tune temperature settings, monitor energy consumption, and even exercise remote control through smartphone apps. These smart features offer real-time diagnostics and alerts, ensuring seamless operation and timely maintenance.
Recirculation Systems: Eradicating the Waiting Game
Tankless water heaters hold a distinct advantage, yet the lag time for hot water to reach taps has been a concern. Enter recirculation systems – an ingenious solution that keeps a modest amount of hot water perpetually circulating through pipes. With this innovation, the days of impatiently waiting for hot water are history.
Wi-Fi Connectivity: Remote Management Unleashed
The emergence of Wi-Fi-enabled tankless water heaters brings convenience to a new echelon. The luxury of remote monitoring and control is now a reality. Users can adjust parameters, track energy utilization, and receive notifications through smartphones or connected devices. This seamless integration usher in personalized control and effective energy management.
Self-Cleaning Technology: Maintenance Simplified
The battle against mineral deposits is a perennial concern for water heaters. Self-cleaning technology has taken up this challenge, incorporating specialized valves or flushing mechanisms to remove sediment and scale buildup. The result? Improved longevity, reduced maintenance, and sustained efficiency.
Leak Detection and Prevention: Safeguarding Your Home
Modern tankless water heaters act as vigilant guardians of your home and are equipped with leak-detection sensors. They promptly identify potential leaks or water damage, alerting homeowners before the situation escalates. This preventative measure saves on costly repairs and conserves water resources.
Hybrid Systems: The Best of Both Worlds
Hybrid tankless water heaters epitomize innovation, marrying the benefits of tankless technology with a small storage tank. This blend provides an immediate hot water supply while retaining the energy efficiency of tankless systems. This hybrid approach is ideal for high-demand scenarios and balances performance and efficiency.
A Glimpse into the Future
The evolution of tankless water heaters is an ongoing journey, with the promise of further advancements. These innovations are poised to elevate efficiency, convenience, and user-friendliness to unprecedented heights. By embracing these technological leaps, homeowners partake in elevated energy conservation, reduced utility costs, and a heightened sense of contentment.
Tankless water heaters have positioned themselves as a transformative force in a world increasingly driven by efficiency and sustainability. With these modern marvels, the days of waiting for hot water are now nothing more than a memory. As technology propels us forward, these heaters stand as a testament to our capacity to blend comfort, efficiency, and environmental responsibility into a harmonious whole.
The Power of a Recirculating Water Pump
However, let's not rush into the spotlight without acknowledging the second player in this dynamic duo – the recirculating pump. In a fast-paced universe where time is a precious commodity and instant gratification is the norm, the recirculating pump emerges as the bold champion of those who demand swift access to hot water. Its mission is clear: to deliver immediate gratification while minimizing the wastage of our planet's most precious resource – water. It's an ode to efficiency, promising to keep you warm without compromising environmental responsibility.
The Big Deal on Hot Water via Recirculating Pump
The recirculating water pump gives instant hot water and keeps hot water moving through the pipes. This means you use less water and save more of our planet's precious resources. Also, ensuring hot water is always close at hand cuts down on the heater's operation time. That's less energy and saves you money on the monthly bill.
Smart Recirculating Pumps
Some recirculating pumps come with fancy features like timers or sensors. This means you can set the pump to work when you want it to. You're in control, whether during the morning rush or when you're winding down for the night. It's like having your hot water butler ready to serve on your schedule.
Remember, while recirculating pumps offer a world of perks, getting the most out of them requires the right installation and setup. This is where the experts come in. Chatting with a professional plumber ensures your pump works its magic seamlessly, giving you all the benefits without hiccups. So, say hello to instant hot water and wave goodbye to cold water surprises – the recirculating pump is here to make your life comfier and more convenient than ever.
How Do We Choose Between the Two Water Heaters?
Choosing between these two innovations is more than a toss of the coin. It's a journey that delves deep into your needs, priorities, and the essence of your home. Each choice reflects your unique goals, ensuring your decision resonates with your lifestyle and preferences.
In this decision journey, the guiding light is consultation – a crucial step in navigating the choices. Plumbing experts armed with the wisdom of pipes and systems are your partners on this journey. They know how to decode the complexities of factors such as budget constraints, existing infrastructure, and long-term visions. Their insights, coupled with your intentions, lay the foundation for the decision-making process.
Let Murrieta Plumbing Be Your Partner
And amid this decision, a name emerges as a symbol of trust – Big B's Plumbing. They are not just a plumbing company; it's a promise of excellence. With a team of skilled professionals ready to make your hot water dreams a reality, Big B's Plumbing has reliability and expertise. Their craft lies in transforming your choice for on-demand hot water into a tangible and sustainable experience. Your home becomes their canvas, and their skillful services provide you with nothing less than the best. With Big B's Plumbing by your side, the future promises a world of warmth, comfort, and unwavering satisfaction. License #986152